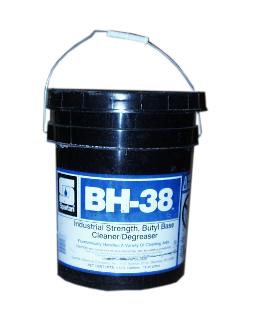 Spartan
BH-38 Butyl Base
Cleaner/Degreaser
What the manufacturer says, " BH-38 is a heavy-duty butyl detergent combination designed to handle tough cleaning problems. To accomplish this, Spartan has combined the detergent technology that produced cleaners like DA-70, SD-20, and Pathmaker, with the technology of solvent cleaning and the end results were BH-38.

To be more specific, BH-38 is an optimized combination of phosphate builders, synthetic wetting agents, and butoxyethanol. It is a water-soluble formulation. It contains an inorganic metal corrosion inhibitor that is especially effective on iron and mild steel. Wetting agents employed have low foaming characteristics, similar to those found in Pathmaker.

Formulations of this nature should never be looked upon as substitutes for all-purpose cleaners, but instead, a product designed for heavy-duty cleaning tasks. For example, airplane nacelles, appliances, brick, concrete, engines, machinery, flues, hoods, and office machines all can be cleaned at one part BH-38 to two parts water. Kitchen walls, tile, marble, and dirty terrazzo-- a dilution of one part BH-38 to seven parts water is recommended. You can clean light fixtures, appliances, and stainless steel at a dilution of 1:10.

In the beginning, a considerable amount of field-testing was performed on BH-38. A number of fast-food installations serving chicken tested the product against grease build-up on walls and around cookers. They found BH-38 removes soil and grease deposits with ease. It has been tested in restaurants around exhaust fans; just spray on and wipe off. BH-38 does an excellent job cleaning concrete surfaces and drive-ins where waitresses walk from the kitchen to the automobile. In printing plants, BH-38 removes ink and grease accumulations on equipment."

Or save over 30% here!

Only: $ 39.95

Unit: 5 Gal Bucket
In Stock: 148 Each