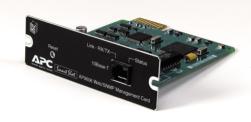 APC AP9606
Web/SNMP
Management
SmartSlot Cards
Need a network back-up power solution? Well, these factory sealed, brand spanking new, APC AP9606 Web/SNMP Management SmartSlot Cards are your ticket. What the manufacturer says: "APC's UPS Network Management Cards provide management of your UPSs by connecting the UPS directly to the network with a dedicated IP address, avoiding the need for a proxy such as a server. Embedded technology provides exceptional reliability and enables the UPS to reboot hung equipment. Manage each APC UPS individually via web browser, Telnet or SSH. Notification features inform you of problems as they occur. For protected servers, the included PowerChute Network Shutdown software provides graceful, unattended shutdown in the event of an extended power outage."

For detailed specifications, please follow the link below:

View The Manufacturer's Full Specifications...

Order this, or a comparable model from an "online discounter" and pay as much as $120, or buy here and save!!!

Only: Sold Out