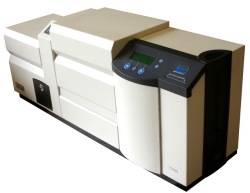 Fargo HDP820-LC
Personalization
Card Printer
Fargo is no doubt the industry leader when it comes to ID card printing. High Definition Printing technology is delivering on today's strict security requirements. Rich, detailed color, with state of the art holograpghic laminate overlays, magnetic swipe encoding and bar code printing provide the user with several options to suit their needs.

We are offering the Fargo model HDP820-LC. This Fargo printer includes a built in, single process laminator. It also has SmartGuard technology, where electronic encrypted key access can optionally restrict operation of the unit. This prevents surreptitious operation, closing insider security loopholes. The HDP820-LC is also capable of using the CR-80, CR-90 and CR-100 cards. Our units were lightly used and removed from working service in securing access to one of the U.S. Government's most sensitive locations. No supplies will ship with the printers. A manual is available for downloading at Fargo's web site. Due to the impressive features and specifications, we suggest looking at the manufacturers brochure. It can be viewed here.

Look for this state of the art printer, or comparable units, being sold at prices in excess of $16,000. Buy it here and save almost 50%!

Only: $ 9995.00