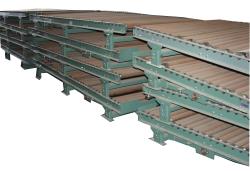 Bama Pallet Conveyor
Gravity System
These Bama, gravity operated, pallet conveyors are the perfect building blocks for designing time saving warehousing systems. These racks are 54 1/4" wide x 10' long. They are equipped with 39 - 40 each, 2 1/2", steel rollers. Most are equipped with an automatic stop, which replaces one roller. Thus, you can set up a line where by adjusting the leg height you create a gradual slope. A pallet, placed anywhere on the line will roll down until it contacts another pallet, or a stop. This allows automatic movements of the pallet stream from one load point, to another. Time = $Money!!! Bama, located in Arkansas, Ph: +1-870-935-2639, is an excellent source for such implements. These conveyors are in excellent condition, as can be seen in the photograph. Buy as many as you need. If we don't have enough, Bama will gladly supply more! New cost is almost $750, each, as equipped.


Buy here and save almost 50%!!!

Only: $ 399.95

Unit: 1 EA
In Stock: 20 Each