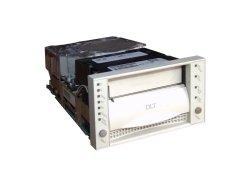 Quantum
DLT 7000
Tape Drive
The Quantum DLT 7000 is but one in a long line of high quality linear recording systems. The DLT 7000 utilizes Symmetric Phase Recording Technology, with a four channel recording system. The manufacturer touts this as making it ideal for intense data back up and archival for mid-range computers, network servers, high-end workstations and mainframes. Now, what we all know is this is a very popular, high density drive, which is supported by all of the major operating systems from Microsoft, including Windows 95, all the way through XP Professional Server, as well as Unix and, of course, Linux - Otherwise, you wouldn't be reading this now!

These drives are in excellent condition, as removed fully operational from service. They are rated for grillions of hours of life - The Mean Time Between Failures is something like 200,000 hours. That's a lot of hours for a tape drive! So, they have plenty of life left in 'em. But, the trick is, you don't have to pay some internet "discounter" well over $200 for them.

Buy one now at SurplusServer and save big!!!



Download the Manual Here!

Only: $ 229.95

Unit: 1 EA
In Stock: 20 Each