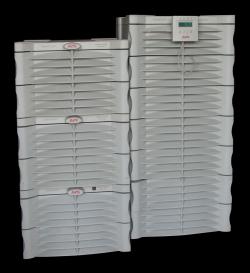 APC Symmetra
16 KVa N+1
UPS System
This is the APC Symmetra 16 KVa N+1 UPS System (SY16K), with the Extended Run Module (SYXR12B12). These units are fully populated with virtually all options. The main frame has the optional redundant power supply (SYPM), so it includes all five, and the redundant intelligent module. This allows continuous operation and hot swap of power modules, should one fail during operation. The main unit includes a full complement of four batteries. Also included are a number of SmartSlot cards; The AP9605 SNMP card, to allow remote network administration; The AP9608 Dial In, or Serial Adapter, to allow access via a laptop, or, in the event of net outage, a modem; And the AP9612 Measure-UPS II. This card allows remote monitoring of temperature and humidity in the UPSs enviromnent. This can be quite handy, as, when accessed remotely, it lets you know of conditions in your computer room. This can be quite handy after storms, to access the operability of your air conditioning.

The included SYXR12B12, Extended Run Power Array, is fully configured, including all 12 batteries. This allows the system to run, at full load, of 16 KVa, or 11.2 KW, for a specification time of 46 minutes.

Both of these systems were removed from fully operational from service this past week. We actually watched them disconnect the system. So, they are in perfect operational condition. They include all interconnect cables (not something to be assumed, as these cost over $1000!) The batteries should be fine. But, relative to the $20,000 cost of each system, a $200 battery, or two, should you need them, should not be a "deal breaker." The system monitors the batteries and notifies you of one is getting weak. Everything is modular. So, maintenance is a snap, and most modules and batteries are readily available on the web at good prices.

If purchased new, this system costs around $20,000 (SY16K - $12,700 + accessories, and the SYSR12B12 at $7500). Each includes everything mentioned above. This is a truly amazing power system and available here at a fraction of the "real cost!"

Only: Sold Out