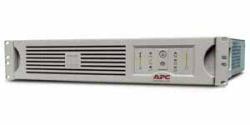 APC Smart UPS
700 Rack Mount
Need a 2U (3.5") rack mountable, high performance UPS for your server system? Well, these APC Smart UPS 700 (Model SU700RM2U) systems are brand spanking new, sealed in the factory box. These are not the usual "pulls," or questionable "removed from service" units (with the batteries half dead!). After all, what good is a UPS if it fails when the power fails? You know the story... A now defunct major corporation ordered twice more than they needed (Wonder why they are defunct?). Anyway, their stockholder's loss can be your gain! These systems include factory manuals, warranty cards, interconnect serial cable and APC's PowerChute Plus software, which, in the event of an extended power outage, allows your system to safely store your data and shut down in an orderly manner before the battery is fully discharged, automatically, and unattanded. They are configured for a standard 120 volts at 50/60 Hz, auto sensing.

For detailed specifications, please follow the link below:


View The Manufacturer's Full Specifications.
Order this, or a comparable model from an "online discounter" and pay as much as $600, or buy here and save over 50%!!!

Only: $ 279.95

Unit: 1 EA
In Stock: 43 Each