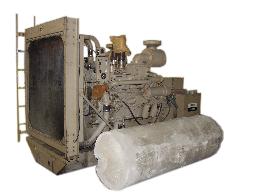 Cummins 250KW
Diesel Generator
250KW Cummins Diesel Generator with only 74 total hours use since new!!!
250KW Prime Power Rating - Cummins diesel engine model V12-500-GO (500 horsepower), Serial number 10447920, 3 Phase, 60 hertz, 0.8 power factor, 1800 RPM, 480 volt (current set up). Reconnectable to 120,208, 240, 416, or 480 volts. Skid mounted, radiator cooled, complete with engine gauges, generator controls, mainline circuit breaker, safety shutdown system. Marathon Generator model 500FDC5034AAW, serial number CJ-96713. Basler KR7-8 Voltage Regulator. Muffler is to be shipped loose. Excellent heavy duty generator. This unit was used as a standby emergency set with impeccable maintenance!!! Ready to ship!!!


Buy This System Directly From Our Friends at:
Master Power Systems, Inc. and Save Big!!!



Only: Sold Out