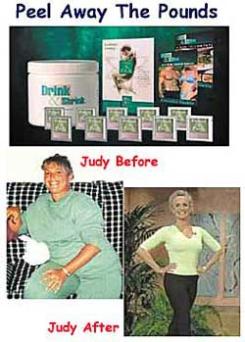 Peel Away
The Pounds
Peel Away The Pounds is the weight loss program you've always dreamed of. UNIQUE PATCH TECHNOLOGY IS FOR MEN AND WOMEN. Simply apply the one-of-a-kind patch on your arm, follow the program,and excess weight disappears! Incredible? Peel Away The Pounds is that and more - a blessing to anyone who has struggled with a weight problem. Wearing the patch, exercising, and eating properly, you'll reach your weight goals that much quicker and find it easier to keep off the pounds. In fact, as long as you follow the healthy eating guidelines, it's almost impossible not to lose weight.
KIT INCLUDES:
30 Day supply of "Pound A Patch" (10 patches)
21 Day supply of "Drink and Shrink"
Exercise Program
Meal Planning Guide

Our 24 hour weight loss program is built around a natural ingredient found in seaweed called Fucus Vesiculosus, that gently stimulates the body's metabolic rate, thereby boosting energy and burning body fat.
"85 pounds lighter - I am back to my old fighting weight and I am proud to fit into a size 6 again. I feel blessed to have found Peel Away the Pounds System because now I can maintain my weight." - Judy Paley

Consult your physician prior to starting any weight loss program. Do not use if pregnant, lactating or sensitive to iodine. In the unlikely event that you experience any side effects or adhesive allergies, please stop use immediately and seek prompt medical attention. Not recommended for children under the age of 18 years of age.


Only: $ 59.00