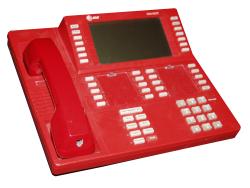 Lucent/AT&T
ISDN 8520T
AT&T's 8520T Voice/Data Terminal is an advanced speakerphone that incorporates a huge 7-line display screen, and 20 buttons, for use in accessing multiple phone lines or calling features. Ten of these are programmable "soft keys" which allow the user to manage their personal directory, which will accept up to 144 entries, select among eight distinctive ringing patterns, or activate other system features. There are dedicated feature buttons to simplify such functions as call transfer ,and redial, and four control keys to access the user's personal directory.

This phone may be connected to a personal computer and will handle data transfer speeds of up to 64 Kbps. It accommodates simultaneous voice and data communications on a single ISDN telephone line. The 8520T will interface with many contact manager and auto dialer programs and thus can be programmed to display information on the computer screen to identify incoming calls, call up customer records, alert the user to priority calls, and keep a log of incoming and outgoing calls.

The new cost of this advanced voice/data terminal and speakerphone is over $1000. This unit was removed from service fully operational. It is in good condition, as depicted, and sold complete with handset. Yes, it is bright red. That's a matter of taste. Maybe this phone sat on the president's desk! ...and we have more, as well as the lower cost 8510T.

Only: Sold Out