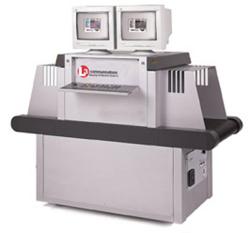 Perkin-Elmer/L3
X-Ray Scanner
Linescan 210
What the manufacturer says, "The Linescan 210 is an X-ray security system with a compact design. With a tunnel opening of 610 mm (24") wide by 486 mm (18.4") high, the Linescan 210 is ideal for the screening of luggage, boxes and packages, handbags and briefcases, as well as many other small items.

The Linescan 210 is especially well suited for embassies, mailrooms, government buildings, courtrooms, correctional facilities and commercial businesses where floor space may be limited.

As part of the Security and Detection Systems' family of products, the Linescan 210 shares in more than 25 years of experience in the manufacture of X-ray security products. With over 18,000 units in the field worldwide, and an extensive service organization to support them, L-3 Security and Detection Systems has established its reputation as the leading supplier of X-ray security products in the world."

This system is offered fully serviced and certified. Service contracts, with 24/7 maintenance performed by factory trained technicians, and leasing agreements are available.

Only: $ 14995.00