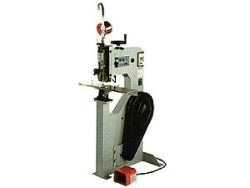 Bostitch M-19
Stitcher
Bostitch says:

The M 19 is the perfect stitcher for thick work; including business forms - ticket booklets and special applications. With the G20 head and the proper maintenance the M 19 will provide years of trouble-free service. In addition eight different wire sizes can be used without the change of parts.

Capacities:
With a G8 head-2 sheets to 3/4"(20mm)
With a 26D head-2 sheets to 9/16"(14.3mm)

Wire sizes:
20-28 Guage round
19 x 21 1/2 - 20 x 24 and 21 x 25 Flat
Loop stitch available

This unit is in absolutely like new condition. It is model M19G20-AST. Quite frankly, I can't see how it was ever used at all, as it is pristine in all respects. We also have a similarly beautiful Interlake unit, as well. So, go over an have a look at it with Talk it up with them and then buy it here and save almost 50%!!!

Only: $ 4995.00