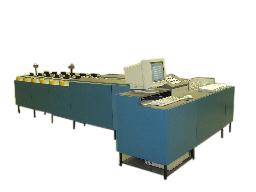 Mail Sorter
Docutronix
Syste-Mail 2000
In cooperation with the manufacturer, "The Surplus Server" is offering factory reconditioned Syste-Mail 2000 mail sorter systems at a sharp discount off factory new prices. These sorters have a service life of decades and have only been used for several months. The systems are fully configurable as to the number of pockets and mail sorting options you require. We will build your machine up to your specifications. This may include sorting by envelope size, bar code, color and magnetic ink. A high speed letter opened is standard and programmable to open only the letters you want opened. The Syste-Mail 2000 are Docutronix latest design mail sorter, as developed for the 2000 census. They are controlled by a modern ELO touchscreen monitor and are fully computer controlled. Thus, full programmability and accounting capabilities are just a few clicks away. Documentation, service, support are all available. So, if you have been thinking of upgrading your existing sorter, or have the need for rapid mail sorting in applications like contests entry forms, invoice processing, municipal or government form/billing, these systems will save you time and money!


Of course, save at least 30% buying from us!!!



Docutronix Full Color Factory Brochure (10 Mb file) !



Mail Sorter Functional Overview. 16 pages. - Nice! (3 Mb file)

Only: Please Call