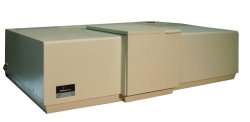 Perkin-Elmer
Lambda 800 UV-VIS
Spectrophotometer
This Perkin-Elmer Lambda 800 UV/VIS Spectrophotometer was removed from service due to a lab closing. It was very lightly used and is in near perfect condition. It is complete, including all standard accessories, sample holders, manuals and software which is ready for installation on your computer. Additionally, it also includes the optional Labsphere PELA-1050 boasting the Spectralon 60mm diameter collection sphere, custom detectors and preamplifier board. This accessory virtually eliminates the need for critical alignment of the optical system. This is a $5000 option.

Please download the manual:

Spectralon 60mm Diameter Collection Sphere

Here's what the manufacturer says:

"The only versatile, high-performance CHOICE for your lab or production floor from the world-leader in UV/Vis. Only the PerkinElmer Lambda 800 UV/Visible or Lambda 900 UV/Visible/NIR spectrophotometers combined with a vast array of sampling accessories provides your laboratory with the industry's finest tool to get the data you need, the way you need it. PerkinElmer's tradition of spectrophotometer excellence continues with the Lambda 800 and the Lambda 900. Both of these state-of-the-art instruments provide the accurate spectroscopic measurements your work requires, the reliability you demand, and the flexibility you desire to meet all your current and future needs.

For sampling flexibility and superior data quality, the PerkinElmer Lambda 800 UV/Vis and Lambda 900 UV/Vis/NIR spectrophotometers are the industry standards for excellence. Perhaps it's because the numerous accessories they have in common make it more costeffective than ever to own the highest performance spectrophotometers available. With decades of experience, PerkinElmer is unparalleled in creating knowledge bases to support you now and into the future. With either the Lambda 800 or Lambda 900, you're getting a premier, doublebeam optical system providing accurate, stable and repeatable results."

It is important to note that the Perkin-Elmer Lambda 800 is fully compatible with the Model 850 and 900, accepting all their software, accessories and upgrades.

Please Download the Product Brochure and Operational Manual by clicking on the highlighted links.

Only: $ 19995.00