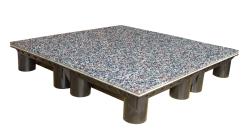 PowerFlor
Raised Access Floor
This Powerflor raised access flooring system is absolutely the nicest we have ever seen! Instead of using a complex systems of panels and rails, all supported by a system it takes a mechanical engineer to understand, they use a system based on 9x9" polycarbonate pedestals which allow two inches of cable space below and elevate the floor by only three inches. The 9x9" squares are assembled in groupings of four, making 18x18" "tiles." These are overlain with a high quality, and very nice looking, carpet to make up individually pullable carpeted panel assemblies, like the one pictured to the left. For this system, they also make, and we have, polycarbonate perimeter panels and Powerport Outlets. Plus, we have many different configurations of Amphenol (AMP) outlets like AC power and CAT5 network connectors, less cabling.

The Powerflor pedestals are manufactured from a polycarbonate material that is PVC free and have been independent laboratory tested for a concentrated load of 1200 pounds per square inch. They are Class A Fire Rated under UL94 listing. The pedestals are attached to a standard 18" carpet tile using pressure sensitive adhesive. The panels are normally installed loose laid over Volara Foam, not included. As of this writing, we have over 2800 Sq. Ft. available, with a myriad of accessories. So, call now!


New, this system, which, believe me, is the finest available,
will cost you $25/foot!

Buy it here, while supplies last, and save over 50%!!!

Only: $ 9.95

Unit: Sq/Ft.
In Stock: 2562 Each