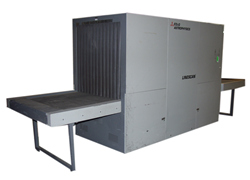 Perkin-Elmer
X-Ray Scanner
Linescan
System 7
This EG&G Astrophysics, now Perkin-Elmer, Linescan System 7 X-ray scanner system is in excellent condition as removed from service. This unit is both physically and operationally almost identical to the now current Linescan 107. This is a large "bore" machine capable of handling larger parcels and full sized luggage. What the manufacturer says about the Linescan 107: "The Linescan 107 is a large X-ray security screening system with a tunnel opening of 1015mm wide by 1015mm high [That's 40 x 40"]. It is ideal for screening very large luggage, parcels, boxes and crates. The Linescan 107 is suited for use in airports, customs facilities, nuclear power plants, correctional institutions, government buildings or any other place where high security and complete screening of large items is required."

New, the Linescan 107 X-ray scanner sells for approximately $60,000. Our system is still fully supported by Perkin-Elmer and eligible for inclusion in their annual maintenance plans. We are offering you this system, complete with monitors and fully operational - certified by Perkin-Elmer.


So, Buy it new. Or, buy it here and save over 50%!!!
This is as good as it gets!



Learn More - Read The Linescan 107 Data Sheet!

Only: $ 24995.00