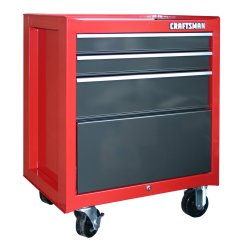 Craftsman Premium
Roll-Away
Tool Cabinet
We have just received a limited number of factory new Craftsman Premium Roll-Aways. Take note of the heavy duty casters and structural steel uprights. This is not the light weight "Homeowners" flavor of chest Sears is forever running on sale. This professional unit is designed to support up to 500 Lbs., and will form the basis for your tool system at a fraction of the current retail. But, wait! Once more, this cabinet is not what you usually see advertised in ads reading: "Good Condition - With just a few dents, dings and scratches." It is brand spanking new - in the factory box! You get to bolt the casters on and take the new keys out of their little envelope for the first time yourself!

Now, for the details: The cabinet is 29" (L) x 21" (W) x 32 (H) and weighs in at a hefty 91 Lbs. It features two 3" drawers, one 6 1/2" drawer and a retracting 11" door. The door must be unlocked and retracted before the drawers can be opened. The lock is of high quality, and is mounted into structural steel. So, if someone is going to try and gain unauthorized access, they're going to need some serious tools and should be ready to make some noise.

To save on delivery costs, due to weight and size, these units should be delivered to business addresses only. Fedex will not deliver items over 75 Lbs to residential addresses, and motor freight companies charge hefty residential surcharges.

Only: $ 109.95