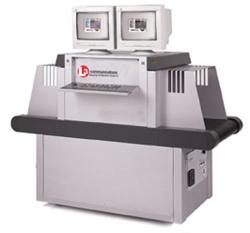 Perkin-Elmer/L3
X-Ray Scanner
Linescan 215
What the manufacturer says"The Linescan 215 is an X-ray security screening system with a tunnel opening of 610 mm (24.0") wide by 468 mm (18.4") high and excellent imaging performance. All versions of the Linescan 215 are ideal for the screening of briefcases, handbags, backpacks and small packages. These systems are well suited for embassies, mailrooms, government buildings, courtrooms, correctional facilities and commercial businesses requiring screening of small parcels.

The Linescan 215/III is a very cost efficient model. Variable length conveyors, dual monitors and additional options make the Linescan 215/III suitable for numerous applications.

All systems within the Linescan 215 series are dependable, sturdy machines built to suit your security requirements. The Linescan 215 series are especially well suited for screening carry-on baggage at airports or anyplace where floor space may be limited.

This system is offered fully serviced and certified. Service contracts, with 24/7 maintenance performed by factory trained technicians, and leasing agreements are available.

Only: $ 15995.00