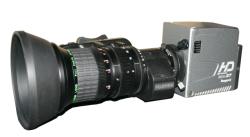 Ikegami HDL-37
High Definition (HD)
Video Camera
This Ikegami HDL-37 is in excellent condition, as pictured. Unlike most video equipment offered on the web, our equipment is not ex-rental. I am sure you know what that means! Rental equipment takes a beating and usually isn't sold until it becomes unservicable, or too ugly to rent. Not so here! This camera was purchased by a high-tech outfit, for a special project. When this project was completed, the camera fell into disuse. Never mind the fact that it still has 99% of its useful life remaining!

Here's what the manufacturer says: "The HDL-37 compact HDTV 3CCD camera features a newly developed 2/3-inch 2,000,000-pixel CCD image sensor to deliver outstanding image quality and resolution that compares to a 1-inch 2,000,000-pixel CCD compartment. In addition, an unprecedented reduction in camera head size is achieved in a HDTV camera. The HDL-37 will find use in various applications. Beyond the traditional concepts of HDTV cameras. The world of exceptional image quality will gain even more familiarity and take on a new dimension."

This is a very high quality special purpose camera. The Fujinon lens pictured is for depiction purposes only. It is available, but, not included. The Ikegami HDL-37 is designed for such applications as remote boom mounting, for special effects and camera angles, among many others. It is also the camera of choice for gyroscopic mounting aboard helicopters for police surveillance, and television news applications. Several popular companies manufacturing such specialized mounts use this camera almost exclusively. New, this camera will cost you well over $40,000. Buy it here and save big!

Download the manufacturer's complete brochure here!

Only: $ 8995.00