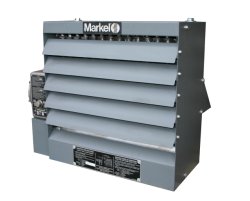 Raywall/Markel
25KW Hazardous
Location Heater
This is a factory new heater system. Here's what the manufacturer says:

FAN-FORCED SUSPENDED UNIT HEATERS 3-25 KW FOR CLASS I, GROUP C & D,DIVISION 1 & 2 AND CLASS II, GROUPS E, F & G, DIVISIONS 1 & 2.

Designed for rugged industrial applications in hazardous locations where the possibility of explosion or fire exists due to the presence of certain flammable gases, vapors, powdered metals or dust.

Permanently sealed, liquid to air, finned tube heat exchanger core
Ethylene Glycol to water mixture uses a heat transfer fluid in the heater core, providing freeze damage protection
High performance electric motor driven fan blows air across finned tubes to effect uniform heat transfer and area heat distribution.
Manual Reset capillary type high limit provides high temp. Regulation and is rated for 6,000 cycles of service
14 Ga. Steel cabinet epoxy coat finish contains heater core,motor, and fan assembly
Unit is their model: HLA20-480360-25.0-24.

This equates to a 25kw unit, operating from 480 volts, 3 phase, producing a specification 85,400 BTU. The unit draws 32.8 Amps. There are two large bolts, which are included, on the top of the unit for hanging or suspension. The Manufacturer produces a number of brackets for mounting, or you can easily fabricate your own. The overall weight is 225 Lbs. The installation, parts, service and maintenance manual is included. The unit is crated and ready for shipment or pick-up.


See the manufacturer's brochure and specifications here!


The new list price for this special purpose heater system is over $7800.00. These types of heaters are very hard to find on the secondary market. We only have one! So buy now and save!


Only: $ 4995.00