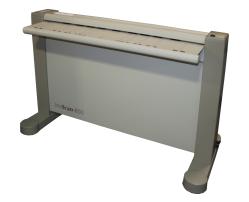 Vidar
TruScan 800
Wide Format
Scanner
This Vidar TruScan 800 is a full featured, high resolution, wide format graphics scanner. It will accomodate pages of up to 36 inches in width and unlimited length and provides up to 800 DPI resolution in up to 64 levels of greyscale. This scanner is in excellent condition, as removed from service and is perfect for inputing maps, design plans, CAD drawings, etc, saving hours over old fashioned digitizing techniques.

The Vidar TruScan 800 is compatible with the Windows 95/98 and Windows 2000 operating systems, with SCSI support. Windows XP implementation may be a bit more of a hassle, due to the "different" way it handles things. A standard SCSI interface card installed in the host computer, like an Adaptec is preferable, for seamless compatibility. When installing on one of the mentioned operating systems, we can assist you in getting the necessary drivers at no charge. Installation should be easy. One additional note of interest: The new scanners appear to be much faster. This is an illusion! Most of this speed increase is in the computer used. As you may know, large format scanners can generate very large files, and older computers had a hard time crunching them. If this scanner is used in a modern 2 Ghz, or faster, system, you can expect a 2 - 3X increase in acquisition speed over the original specifications. New, this scanner, and similar products cost over $10,000.

Buy it here and save big!!!

Only: $ 3995.00