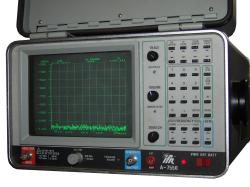 IFR A-7550
Spectrum Analyzer
When configured with the optional Tracking generator, as this one is, the IFR A-7550 Spectrum Analyzer is one of the nicest and easiest to use analizers we have ever had the privilege of owning. The unit covers a broad frequency range of 10kHz to 1GHz. with an amplitude frequency range of 100kHz to 1GHz. The dynamic range of from -120dBm to +30dBm is sufficient for any imaginable application. There is a built in RF input attenuator which has a broad 60dB range, in 10dB steps. The sweep rate is selectable from 5ms to 2s/div.

This unit is equipped with Opt. 02, the tracking generator, which features a 0-70dB attenuator, in 1dB steps as well as Opt. 05, the IEEE-488 interface.

This unit is in excellent condition, and perfectly functional. I have used it myself! Then there is the issue of the price. Buy it elsewhere and expect to pay up to, and even over $6000! Just "Google It" and see! Or buy it here and save 40%!

Only: Sold Out