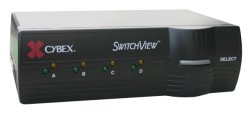 Cybex/Avocent
Switchview SC (Secure)
1x4 KVM Switch
If you are reading this page, you likely know what a "KVM" Switch is. That is, a device that allows you to use one keyboard, monitor and mouse with a number of different computers. When connected properly, a simple series of keystrokes takes you from one computer system to another. These can be very nice for anyone using more than one computer in the same location, and virtually invaluable for system operators. Now for what you might not know. It is often desirable, from a security perspective, to isolate your internal secure LAN from external public networks, like the internet. This is often done with firewalls, or in more secure installations, by completely isolating the two networks from one another. In other words, no computer on the internal secure network is also on the outside, unsecure network. This precludes the possibility of someone hacking into the common computer(s) and finding their way onto your secure network. This much is pretty common knowledge. What is less well known is that if the system administrator, or other person, has access to computers on both of these networks via a KVM, a savvy hacker, compromising the public network computer, can possibly also gain access to critical data from the secure network computer via the KVM itself! This is a little known, but never the less, very dangerous security hole which is very easy to plug. That's where the line of Avocent/Cybex Secure KVM Devices comes in:

Here's what the manufacturer says:

"If you access secure and non-secure networks, you can rely on the SwitchView SC switching system to keep your private data completely separate and secure at all times. The SwitchView SC switch is specifically designed to make unintended data transfer between connected computers virtually impossible – an important factor for maximum security installations."

Please take a look at the factory installation and operation manual in Adobe Acrobat Format here.

These units are in extremely good condition, as removed fully operational from service. New,these high quality units retail for $349.00.

Buy them here, while they last, and save!

Only: $ 195.00