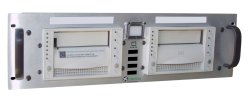 Gateway
Rack Mount
Dual Tape Drawer
This Gateway Rack Mount Tape Drawer is a useful and high quality accessory. It mounts two SCSI devices, shown here with two Quantum DLT-7000 Tape drives installed (not included). This is not your average external tape accessory cabinet. It features two Antec Model RPP-300B, hot swap, power supplies. This makes for a cool running, redundant power source. The cabinet can, of course, support a number of other SCSI accessory drives. The only limitation is your imagination!

Interested in the "(not included)" DLT-7000 Tape Drives? Well, we have dozens in stock. We'll include them, installed, for only $125/each. And, to top off the deal, we'll include a set of high quality, adjustable, locking rack slides. Buy them seperately, from an online "discounter" and you'll pay over $100! Also, if you buy this cabinet with your Gateway server solution, you will pay some big $$$. But, not here.


Buy Surplusserver and save!!!

Only: $ 199.95

Unit: 1 EA
In Stock: 20 Each