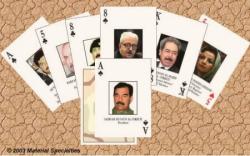 Iraq
Most Wanted
Playing Cards
Complete 55 card deck, depicting "Iraqis of interest" to Coalition forces.

Printed on top quality, poker size cards. These ARE NOT junk cards, that are printed on a piece of paper, or some other low quality playing card material. They are REAL, coated playing cards, with rounded edges.

NEWS FLASH .... WASHINGTON, April 12, 2003 – Coalition forces in Iraq are using a specially created deck of 55 playing cards to identify the "most wanted" members of Saddam Hussein's regime.

Coalition officials have identified a list of 55 key regime leaders they intend to pursue, kill or capture, Army Brig. Gen. Vincent Brooks, deputy director of operations at U.S. Central Command, said in Qatar April 11. "The list does not exclude leaders who may have already been killed or captured," he noted.

We have seen low quality reproductions selling for $19.95. Our most wanted cards are made in the U.S.A. Our price LOW AS $5.00 each, in quantity. High quality deck - order today before they sell out! On line orders only please.

MADE IN USA


Only: $ 5.95